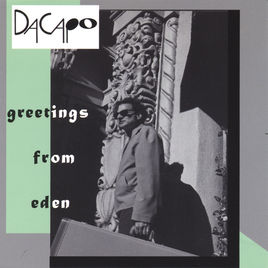 This CD has a great raw live sound , this was a live studio CD with a full band and really not a lot of over dubs.
When you listen to this CD, you'll be reminded of how traditional recordings were done in the 60s and 70s even though this album was recorded in 1999.  Some really fine gems on this CD and they have stood the test of time.
REVIEWS
– "The Genesis of the modclass is here on this CD"
– "The song, For Love is a quintessential love song about a beautiful girl and a distant admirer, pure rock romance at it's best"!
https://itunes.apple.com/us/album/greetings-from-eden/id57747658
http://www.cdbaby.com/cd/dacapo
This is the last traditional style of recording available from Jamie.  After Greetings From Eden, everything gets very digital and Greetings still has an old school vibe to it's sound and style (Jamie is very proud of that).  Not a lot of studio tricks on this CD just raw performances with all of it's imperfections and priceless spontaneity.